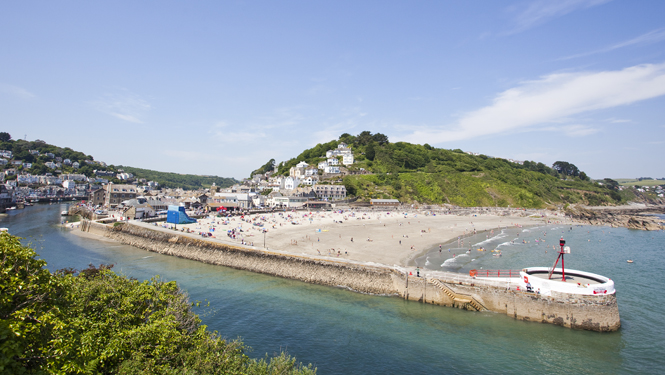 The common misconception about the United Kingdom is that it is a country full of industrial cities, bustling towns and people working hard to keep themselves going in a fast paced economic rush. This is not the case. There are areas of the UK where the countryside and its natural beauty far outweigh this conception. Two of my favorite areas of the English countryside are the counties of Devon and Cornwall. Their fantastic natural climates fuelled by the gulfstream make the waters warmer and the summers by far more reliable than the other counties to found in the country. One of my personal favorites is the small town of Looe in Cornwall and here are a few must do activities in Looe if you are in the area.
First of all, the town is actually split into two sides and both East and West Looe are joined by a bridge over the river Looe by a bridge so each side of the town has its own little treasures to explore. Because the town is still a working fishing port, one of the best things to do is to take advantage of the fantastic seafood that is available caught fresh everyday at some of the fine local restaurants in the town. What can be better than watching the fisherman land their days catch and then feasting on the some of the freshest seafood in the county that evening?
However, there are not just culinary delights available as there are also some great historical sights to visit such as Saint Catherines castle. This 16th century castle, which now lies in ruins was built by King Henry VIII in response to a feared invasion by the French and the then Holy Roman Empire. It can be quite tricky to get to along the small winding path but offers spectacular views of the bay in Looe and the fishing boats going about their daily business.
If you are looking for a bit of wildlife then it might be a great idea to take the family along to the monkey sanctuary. It is only about four miles from the main town but houses many rescued and abandoned primates. With over five thousand primates being kept as pets in the UK alone, the sanctuary offers care and rehabilitation for those that have proved too difficult for people with little or no knowledge of monkeys a place of refuge for those abandoned by their owners.
Finally of course there is the beach and the shingle beaches of Talland bay are perfect for an evening walk or a daytime relax. The beaches were reportedly one of the main parts of the coast to be used by smugglers and is also the site of the 1922 shipwreck of a French trawler that at low tide can be clearly visible from the shores.