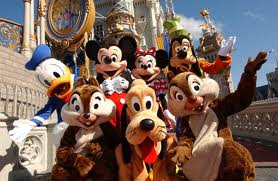 Taking a trip to Walt Disney World Florida with the family is always a special experience, but it can be difficult to arrange during the summer months. There are lots of benefits, therefore, in organising such a holiday for everyone later on in the year with Cosmos and it's not too late for 2013.
Read on to find out all the ways that you and your brood could reap the rewards of taking a late break to this magical place.
The cost
Visiting out of season means that you still get to experience all the excitement of the four theme parks and two water parks, but at a cheaper price. There are often a wide selection of deals to be had at this time of year as the resort is keen to attract tourists during a relatively quiet time of the year.
For some families this will make a trip to Walt Disney World Resort Florida much more achievable than it would be during the height of the summer holidays. If you are a family of four or six then these savings multiplied by all of you will quickly add up.
Climate
While it is lovely to visit Florida and enjoy its sunshine, this can become a bit too much for some people, especially if you are out and about in theme parks all day. The hot weather can be tiring and there is the constant need to keep topping up the kids' suntan cream.
This is not the case later on in the year as the climate is more temperate. That is not to say that it is cold, as this certainly is not so. Florida is just that little bit cooler at this time of year, helping to take some of the stress out of a family holiday.
Shorter queues
Your children are likely to be really excited about Disney World and the chances are they've spent a lot of time deciding what they want to do. This means that you are going to have a very busy time trying to fit it all in.
This is made easier by the fact that once the high season is over the queues for popular shows and rides will be much shorter. This means less time spent waiting and more time to enjoy watching The Festival of the Lion King or undertaking a Kilimanjaro Safari.
It is not just the attractions where you can find queues, but also at food stands and merchandise stalls. All of these will be easier to use if you pick a late 2013 trip.
Less busy
Everyone expects Disney World to be busy, which helps to build the atmosphere, but visiting during a quieter time of the year certainly has its advantages. The kids can spend longer meeting with their favourite characters as there is less competition for their time.
This means that you can get the perfect family photo with Cinderella and your own little princess or enjoy seeing your little boy's eyes light up when he meets Goofy.
Some small children find it quite overwhelming to have so many people around, so a trip to Disney World at this time of year is better for them. They will have more space to play in the water parks and fewer children going down the slides.