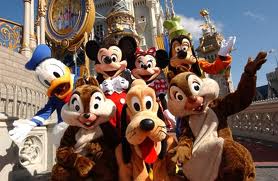 There are two Disney resorts in the United States: California's Disneyland is the original Disney theme park, inaugurated by Walt Disney in 1955; the other, the massive Disney World Resorts, is a huge complex spread across 47 square miles near Orlando, Florida.
Despite the fact that the same company owns both resorts, which is the best is a topic that sparks fierce debate among fans of either park. Whether one prefers Disneyland's Sleeping Beauty Castle, to Disney World's Cinderella's Castle, for example, is akin to asking if you prefer apples to oranges.
Disneyland
Located in the heart of Orange County near Anaheim, California, Disneyland certainly attracts a higher percentage of locals than does its Florida cousin.
Disneyland remains popular with traditionalists, who typically find the smaller, more intimate atmosphere of the Californian park more in tune with Walt Disney's original message.
While Disney World certainly has far more attractions, the fact that Walt himself designed many of the rides at Disneyland is a big draw for die-hard fans. Unique to Disneyland are attractions such as Storybook Land Canal Boats and Indiana Jones Adventure. In addition, the Pirates of the Caribbean ride, whilst present in Disney World too, is longer and, in many peoples' opinion better at Disneyland.
In 2012, Disneyland unveiled what five years of expansion had brought to the new 'Disney California Adventure Park.' One of the most popular of the new attractions has been 'Cars Land', based on the popular Cars movie and a huge hit – especially the Radiator Springs Racers ride – with families with younger children.
Disney World
While a visit to Disneyland could be the destination for a day trip for many Californians, a trip to Disney World is an event. The Walt Disney World Resort is actually four theme parks in one: Magic Kingdom (the original, with Cinderella's castle, the fireworks, etc.), Disney's Animal Kingdom, Disney's Hollywood Studios, and Epcot. There are also two water parks, 25 Disney-owned hotels and one campsite, all within the resort itself.
Twice the size of Manhattan, Disney World Resort continues to expand, numbering around 105 attractions at last count – far more, in fact, than most visitors can manage to experience even over an entire weekend.
Like Disneyland, Disney World does have its share of iconic Disney attractions, including the Cinderella Castle and the daily fireworks show, which just about tops any regular fireworks spectacular anywhere else in the US. Many of Disney World's attractions exist at both parks, however, such as Big Thunder Mountain, It's a small world, Jungle Cruise and the already-mentioned Pirates of the Caribbean.
One big draw at Disney World though is its many zoological attractions, including the Kilimanjaro Safaris, and musicals such as Finding Nemo. There is also considerably more live entertainment at Disney World, in the form of dinner shows, musicals, and onsite performances.
Getting around the park typically involves a 30-minute commute and while the Disney shuttle transportation is included in most ticket prices, the sheer size of this place can be time-consuming as well as fantastic. Finding something to eat and drink is no problem as there are numerous catering outlets of many kinds available.